Because the Democrats' bench is so weak, there are odd things afoot. Hillary Clinton keeps popping up because hey kids, why not try to run her again when she is four years older and spends four more years an unemployed millionaire. The progressives do not have ready for primetime players. Governor Cuomo is probably too white to win the nomination. This allows weird things like Mark Zuckerberg to go through motions of an odd play on ye olde Listening Tour. No one quite touches on Zuck's vision because to follow it through is too dark.
Zuckerberg's
commencement speech at Harvard mentioned a universal basic income
. He mentioend opioid addicts and manufacturing. He recently said he is no longer an atheist. Jesus Christ, this is more transparent than his $100 million donation to Newark Public Schools when the film on him came out painting him less than stellar. He is checking the nation as if he is a billionaire that cares. It is just good PR for a run for the presidency. Hillary Clinton did this in upstate New York prior to her run for the Senate seat vacated by Moynihan.
A
writer at Zero Hedge
mentioned the lunacy of a UBI, and how if Zuck is so concerned he could start grants now with his money or Facebook's if he chose. This does not quite touch on the endgame of what a UBI as presented by Zuck means. Strip away the purpose for all claptrap, and Zuck is pushing a new government benefit to pacify the Left's imported primitives with peasant desires. Take this to its logical conclusion, and let's not assume it is just a 'universal consumption credit', which is not UBI and would force you to spend it on approved goods to keep the elite's system going.
A universal basic income + this picture...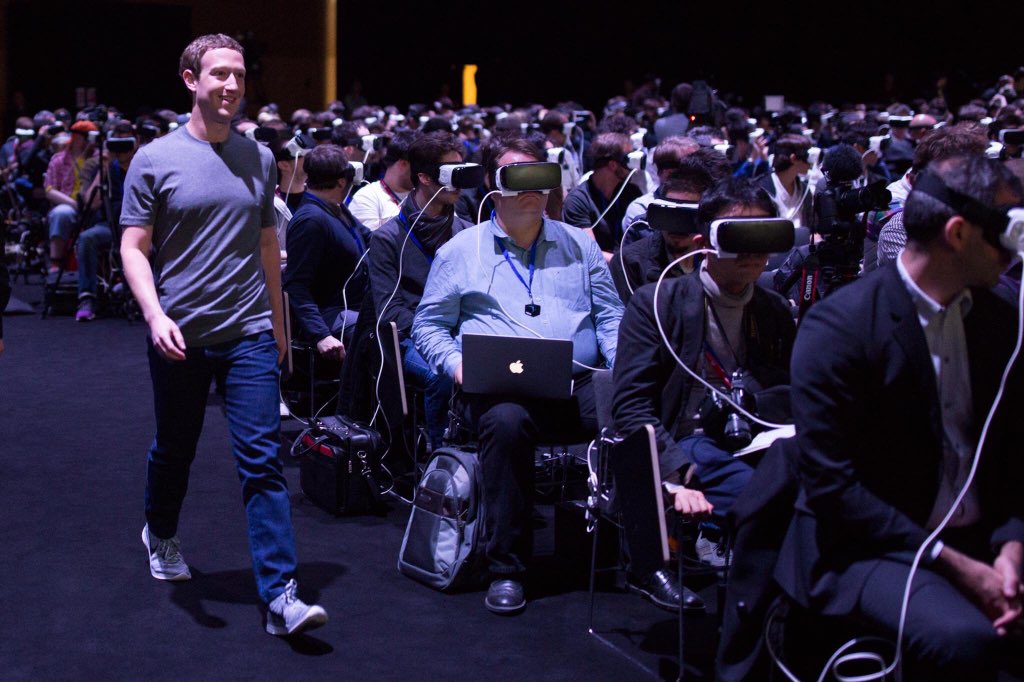 Dystopia Comes In All Forms
Means the
Virtual Option
from Moldbug's deep archive of ideas and pontifications can become real. You, not you the reader but theoretical you out there, will be approved for a UBI just as long as ou move to these nice condos sequestered from humanity with these fancy goggles that allow you to be king, queen or God for a day.
The beauty of it is that Zuck's corporation would get one of the contracts if not the VR contract so that even if he does not win the presidency and implement the idea, some other friendly progressive, non-Asian minority puppet can do it. Make no mistake it would be a revenue generator for Facebook and ROI for Zuck's VR Oculus investment. Google has Chromebook grants that go to underprivileged areas. Visit a classroom. They may not have desks, the teacher may have to get supplies herself and the kids may not be able to read at age 7, but by gum, they have a stack of Chromebooks in the corner just waiting for distribution.
Start looking at the low government benefit recipients not quite as pure parasites but as parasites that are conduits for the bigger parasites: corporations that market goods and services to the low to use their government credits on daily. Ask McDonald's. Ask Walmart. The low becomes a puppet not just for the demand of government services and those do-gooder social workers but for entire corporations to base their business strategy on (
Angelo Mozilo and minority lending
).
Mena was right with his tweet and Zuck may make it become reality but in a self-sustaining loop of dollar transmission. The UBI will come with goggles and make Zuck's investment whole. Maybe Zuck's vision is for a UBI and everyone to have purpose and to find a place. The purpose and self-actualization might be the underclass being segregated but made to feel a God when they put the goggles on, sipping their soylent in between sessions. Moldbug might have been wrong in thinking the Virtual Option would have to be a government project. A corporation just may lobby it into existence and let the marketplace sort it out.
Mena the Prophet