One upside to the Obama presidency is that it hopefully has dashed the ideas Millenials and liberal voter blocs had about the power of the presidency. At this point, even blacks have to be feeling let down that he never "blacks up" on anything. Extremel low information voters may not get it, but how much is it them not getting it or them getting it but choosing not to care? Denial is powerful. A pattern with the bully pulpit under President Obama is the diminishing size of targets. Obama's general commentary resembles a gelded, browbeaten husband where he decides to comment on the dumbest or least important thing and remains mute on stuff that matters. Maybe the comparison is the dad who does not notice his oldest son being an oxy pill popper, his daughter's meth teeth but he sure as well go nuts over the weeds in his neighbor's lawn. Obama's selective commentary creates the opportunity for a fun game.
Russia
discusses
plans and actual execution of moving away from trade in dollars. While kicked out of the G8, that does not diminish Russia's standing in the international economic order. Anything that reduces the use and flow of dollars is a major deal in our financial situation. The possibility that G8 nations and other middle to large sized economies are taking steps to drop the dollar is important. Do we get a comment from Obama? No.
NFL spends the 249th draft pick in the NFL draft on an openly gay man. Sports fans roll their eyes at the focus on Michael Sam. Do we get a comment from Obama?
Yes
!
The President congratulates Michael Sam, the Rams and the NFL for taking an important step forward in our Nation's journey. From the playing field to the corporate boardroom, LGBT Americans prove everyday that you should be judged by what you do and not who you are.
Let us stop one moment to laugh at the irony in this comment from Obama. A president that no one would know if he were not half black is congratulating a 7th round draft pick that casual fans would not know of or have seen cry on the strategically placed television cameras that "you should be judged by what you do and not who you are. No one would know either of them if they were not gay black men.
China has been pretty busy. China
calls Iran a strategic partner
, placed an
oil rig in what was seen as Vietnamese waters
and is holding
military exercises
with Russia. China is really flexing their muscles, and whatever happened with that Iran sanctions thing? Has that backfired completely? Iran takes the window of sanction relief to sign giant economic and military deals with Russia and China, and Israel and the Saudis are flaming mad. Who exactly is the US picking up as a new ally or partner? John Kerry calls the oil rig actions provocative, but what does Obama have to say? Nothing.
Elderly owner of the Los Angeles Clippers, Donald Sterling, asked his mistress on a taped phone call to not take pictures with some blacks. This mushroomed into a giant fiasco for the NBA. The media ran with this as the most racist thing in the world
this month
. Did Obama have a comment about this?
Yes
,
many
. In his words, Sterling made "incredibly offensive racist statements". I hope he is not listening to Jay-Z's albums then when he visits the White House.
In Syria, a nation where the Saudis and Qataris funded different rebels, and the US sent weapons for fighting as well as material, Syrian Christians are being killed daily. Some of the church's oldest communities and individual churches are being destroyed. This kind of death and destruction solely on the basis of religion, and with US being slightly culpable, could it, would it elicit some words from President Obama? No.
After years of back and forth religious conflict that will likely escalate to a civil war, a terrorist organization of Muslims kidnapped just under 300 girls in Nigeria. Would President Obama comment on the bigger picture problem in Nigeria? Would he mention the steady flow of religious attacks by both sides, and maybe even the after effects of Muslims from Qadaffi's regime that he had hired as mercenaries making their way back to Nigeria to do some damage? No, but President Obama did
comment that it was "heartbreaking" and "outrageous".
He speaks so well!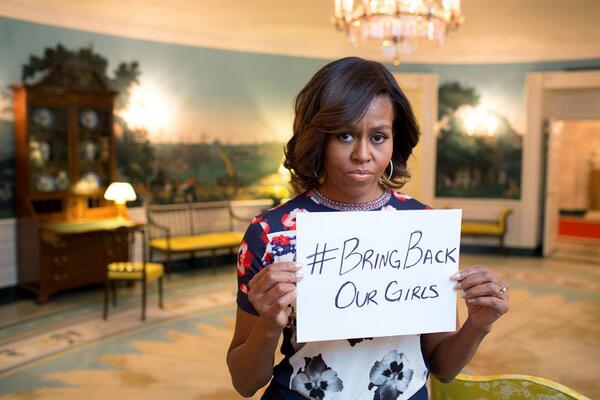 Just look at the desperation in this woman's eyes