Pajamas Boy has been a funny meme making its way around the Internet. That smug looking SWPL hails from
Winnetka, Illinois
. While the living, tangible representation of the type of white guy that votes Democrat and advocates for progressive policies, his hometown is a perfect representation of the top of the Democrat barbell coalition. R.J. Moeller at The Federalist took a
swing
at Winnetka, the New Trier High School (his alma mater) and wealthy liberals in general. It just scratches the surface about funding progressive policies, causes and clubs. Winnetka itself reveals the money and power on the left that the media forever portrays as belonging to the other side. The wealthy are in this alliance because the government is a looting mechanism for rent seeking and economic gain.
The profile for Winnetka linked above reveals a few facts that explain the power and brain trust behind the progressive's coalition of victims.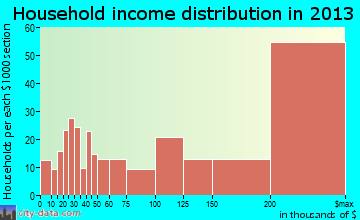 1. Average household income is $194,278. That is 4x the state average.
2. Estimated median house value is $869,135. That is nearly 5x the state average and a high barrier to entry for new home buyers.
3. The city of 12,000 is 90% white, 4% Asian, 3% Hispanic, 2% multiracial and 0.4% black. This is far different and whiter than
Illinois
, which is incredibly close to the national makeup of America. Illinois contains their blacks mostly in Chicago and East St. Louis.
4. Education is valued and an honor for citizens of Winnetka. A little over 99% of citizens have a high school degree, 88% have a college degree and 48% have a graduate or professional degree.
5. Only 6% of residents are foreign born compared to 13% of the state of Illinois.
6. Over age 25 unemployment is only 4.4%.
7. Crime is well below the national average, and Winnetka has not had a murder this century.
8. Most common occupations for males are lawyers (13%), top executives (12%), sales representatives (10%), and business operations specialists (8%). Nearly half of all businesses in Winnetka are finance, insurance, professional, scientific and technical services. n a nutshell, this is a fountain of mindwork. The rest of Illinois is far different.
9. Families make up 81% of households versus the state average of 66%.
10. Election results for 2012: Obama 74%-Romney 25%. The lowest Democrat number in the last twenty years is Clinton in 1996 with 67%.
There is nothing special about Winnetka as you can find these small communities on the outskirts of every major metropolitan blue city in a blue state, skewing progressive. Similar cities are Larchmont and Scarsdale in New York or Newton in Massachusetts. These enclaves form due to the blue states poor governance that chased out the middle class citizens while corralling the poor into dense urban living. The wealthy have the money to build suburbs right next door, but they can bid up housing prices to create a barrier to entry that only fellow wealthy individuals can hurdle.
This is why
Occupy fizzled out by the Tea Party keeps rolling along
. Being made up of a core of middle class voters, the GOP base can fund insurgents, while the Democrats have all of their funding come from the wealthy end of the barbell while their massive underclass end of the barbell provides the votes. This is also why despite all the huffing and puffing from media and academic figures on the left and Democrats in office, nothing will be done to alter the current wealth inequality situation. The good folks in Winnetka will make sure enough small time government handouts, Internet porn and tasty, sugary food is spread through the underclass to sap any energy they may have to carry torches and pitchforks.